A Love Note to Beyul Nebulae...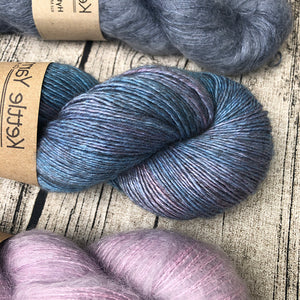 Sold in huge 480m skeins, new subtly variegated in Beyul baby yak/silk/merino singles, Nebulae glows blue with cosmic shimmers of pink!
I think it would make an absolute stunning Love Note by Tin Can Knits paired with Hythe Quartz...



Love Note image © tincanknits
... or Cormorant, depending on whether you'd prefer it to have a more pink or blue tint.
You could also use these combos for this other stunning fingering/Mohair lace design - Sari Nordland's new Poetria! I am cropping mine and feel it will be perfect going into autumn!
I love the look of layering different colours of Mohair and yarn, like glazing in paint, and think these contrasting combinations of Hythe with Beyul Singles Yurt would be stunning in either design. 

From left above Satsuma, Glow, Ray, Quartz and Cormorant. 
I've done a bit of playing around with layering colours of mohair and yarn but wish I could spend a few days, just mismatching and seeing what happens with the colours.

Islington Persimmon and Northiam Rosehip with Hythe Satsuma.

Take a look at this Tin Can Knits' blog post for tons of examples of layering different colours of yarn and mohair - so fun!

image ©tincanknits


I also have a few speckled singles in Villanelle, Petrichor, and the avocado dyed exclusive still in stock if you wanted to use some spotted yarns for layering.


Find them all in shop!