Unravel Festival Saturday May 22 - Session Notes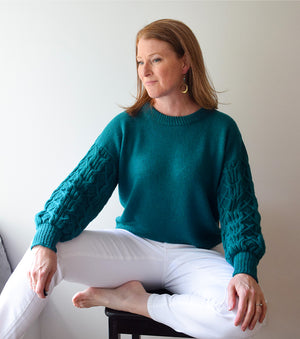 Find me on instagram @kettleyarnco.
For this session I focussed on my velvety, Northiam, which is available in two weights - fingering and DK. Northiam is a worsted-spun yarn sourced, scoured, spun and dyed exclusively for me from the finest Bluefaced Leicester at an iconi British mill used by fashion giants such as Chanel, Louis Vuitton, Marc Jacobs and Paul Smith. The fingering weight is 2ply and the DK a balance 3ply.
With a spongy, naturally lustrous handle, Northiam is low pilling with long-staple fibres that are excellent for both durable items and delicate lace. 
I previewed the new upcoming Audrey jumper in Northiam DK by Josée Paquin, which will be released next week. Yarn bundles now in shop.
Josée made her sample in Caspian for the balloon sleeve version and I've used Amber for the cropped option. 
We looked at one of my favourite makes - the Amber Wheat Sweater in Northiam DK Samphire green by Sarah Shepherd.
We looked at Tecumseh by Caitlin Hunterin Northiam DK Canvas, Swift and Barley.

Then I took you to the shop to look at the Yarn Kit section for other designs you can use for the blend:
We watched a clip on my new Cetrelia wrap from 52 weeks of Shawls  -Find yarn bundles on my shop for pre-order now, with 4 colour families to choose from.

In this session I also announced my first Advent Calendar, which is now live on the shop! This pre-order is for 24 x 20g mini skeins - a stunning mix of handdyed fingering weight and kid/silk yarns to be shipped in early October. 
Thanks so much for logging in today and keeping me company. Email me if you have any questions or need help!