ENTER to Win Prizes with The Yarn Talks!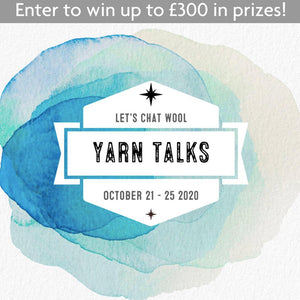 The Yarn Talks October 21 - 25
Enter for the draw for a chance to win up to £300 worth of prizes!
Join @thewoolkitchen and me for a live event on Instagram.  We'll be having some behind the scenes conversations with your favourite yarn folks, sharing insights into our business and our favourite designs and yarns.
There will even be a chance to win huge prizes of yarn and accessories!
*To enter the competition: follow @theyarntalks on Instagram and sign up to The Yarn Talks mailing list below for a single entry.
See the the full line up and enter to win by clicking below. 
I've dyed more Beyul DK for Eri Shimizu's Yonagatsuki cardigan. Muscavado, Amulet, Moss, Citrine and Auburn are all back in stock.
Shown from top above left: Citrine, Moss, Amulet.
Beyul
Baby Yak / Silk / ethically sourced superwash Merino 
100g = 366 meters (400 yards)
I had a few requests for Muscavado in fingering weight, so skeins have been now been dyed. There is also a new darker olive green - Dark Lichen!
The other colours shown above are also restocked. From left: Electric Amaranth, NEW Dark Lichen, Moss, Citrine, Muscavado and Iceberg.
Find them all in shop! 
 

​