Gentle Hug by Melanie Berg in Northiam DK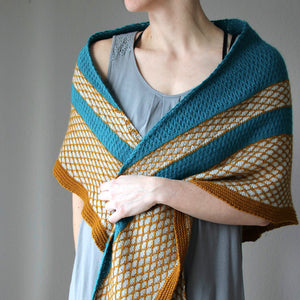 Knit in Northiam DK Caspian, Amber and Shale, Melanie Berg's Gentle Hug is the perfect warm snuggle on a chill day.




Melanie says " ...the name [Gentle Hug] comes from the instant love my youngest daughter had for the finished piece. As soon as it came off the blocking mats, she wrapped herself up in it and stayed like this for the whole day, explaining to everyone how soft and beautiful this shawl was. I loved that so much - and aren't moments like this actually the ones we're knitting for?"
Northiam DK
British Bluefaced Leicester
50 g = 117 meters (127 yards)
£9


I've been wrapping up in my own grellow version in Amber, Canvas and Swift since temperatures dropped and it is like a comfort blankie around the neck!

There are plenty of colours to pick from in Northiam DK to personalise your own Gentle Hug. Here are a few suggestions. 




Find the design in Melanie's beautiful new book, Colorwork Shawls, or download the single pattern on Ravelry.