Get your Toetoe on!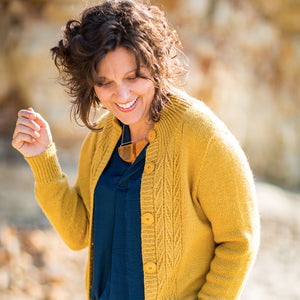 Introducing Toetoe in Northiam DK Barley this week, newly released by Libby Jonson as part of the One Ocean Pacifico Knits collection with Marie Greene (Olive Knits)!
From Libby:
Growing up in one place; there's a knowing and comfort in the curve of the coast, the rise and fall of the mountains and the architecture of the native plants. It's as if the shape of those things lives deep within your bones. And so too it is with the coast of Aotearoa New Zealand. There's a belonging that grows from diving into dancing Pacific waves beneath majestic Toetoe (pronounced Toy-toy) fronds reaching to the sky atop sand dunes that whisper to take an adventurous leap onto the beach below. 
This cardi is part of the amazing One Ocean collection with Marie Greene (Olive Knits), who designed the Trailblazer shawl in Beyul for it!
The Toetoe cardigan captures some of that enticing comfort. Knitted from the top in delicious DK yarn, Toetoe's cosy collar and relaxed fit make you feel instantly "at home". Including charted and written instructions, Toetoe is ideal for experienced knitters and adventurous beginners.
The Northiam DK used is a worsted yarn sourced, scoured, spun and dyed exclusively for me from the finest Bluefaced Leicester at a British mill used by fashion giants such as Chanel, Louis Vuitton, Marc Jacobs and Paul Smith.

This yarn is suitably luxurious, velvety against bare skin with long, semi-lustrous fibres that have a natural drape, holding a block beautifully. Spun with a rounded ply it has excellent stitch definition for cables, lace and other textures while creating beautifully balanced stockinette.

Above: Amber Wheat Collection by Sarah Shepherd in Northiam DK, Ink and Brass by Dani Sunshine in Northiam fingering
The softest non-superwash Bluefaced Leicester you will ever feel, Northiam is low pilling with long-staple fibres that are excellent for both durable items and delicate lace.



Sneak peek of a new design coming next month by Melanie Berg in Northiam DK

Like the perfect little black dress, this yarn is a classic in the making, something you'll reach for time and again. Every colour back in stock this week in both fingering and DK weights for autumn knits!⁠⁠ Find them all in shop!⁠⁠⁠⁠