Laurisylve in Beyul Jade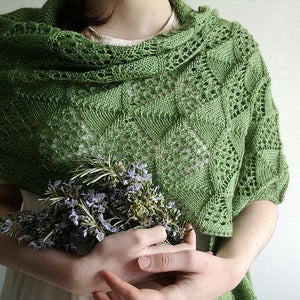 Inspired by the hauntingly verdant tableaus in a Laurel forest,
Laurisylve
 by 
Audrey Borrego
 is a light summer wrap with a geometric lace motif that dissolves into garter stitch, raw garter sides and one pointed edge.
A simple project for those who want to dive into lace knitting or more experienced knitters looking for a relaxing, easy to modify knit, the wrap uses 2 skeins of Beyul fingering.
Audrey used lush
Jade
green for her sample, and as you can see above, there are many hues to pick from if green is not your colour.
I've dyed beautifully rich
Neptune
teal in fingering weight for this release. Shown in the background is Islington Cobalt, which is also restocked.
Find both in shop and Audrey's lovely pattern on 
Audrey
's Ravelry shop today!