Liminal - a sublime new Beyul DK shawl by Andrea Mowry!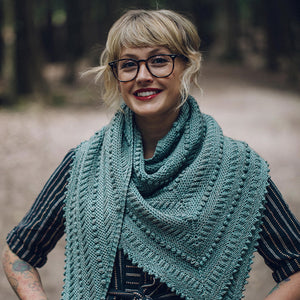 In Beyul DK the
Liminal Shawl
by Andrea Mowry has rows of relaxing garter between stripes of engaging brioche and a tumble of weighty nupps.
Finished with a picot border, the result is a squishy, textured shawl to wrap up in during all of life's adventures - be it a walk to the mailbox or trek through the wilderness.
Andrea chose duck-egg Iceberg for her sample and I made mine in one of the new Beyul DK colours,
Citrine
gold - see below for more options.
Andrea says
"Liminal means on the edge of things or between things and that is just how I want my shawls."
 Drape this weighty shawl over your shoulders or wrap it around your neck for cozy warmth. This generous shawl is perfect for getting cozy and wearing in a number of different styles.
Find the pattern on
Andrea
's Ravelry shop, and if you are at Knit City in Vancouver next week come and see the samples and yarn at the stand. See below for more details!I have dyed 3 earthy new colours in Beyul DK for the autumn:
From left Lichen, Citrine and Bronze have joined the Beyul DK herd!⁠⁠⁠⁠ Find them along with the other hues in shop!
---
I'll be at 
Knit City
this year for the first time! Pretty excited to be doing a show in my old hometown. Find me at stall 602 near the NW entrance off Renfrew St, in pink above, which will be open first thing in the mornings to help thin the crowd at the main entrance. 😉
I will have a small selection of stock, but if you are after something specific email me before end of day tomorrow, Sept 27th and I'll see if I can fit it in my suitcase. Hope to see some of you there!