Miara by Renée Callahan - Northiam DK combos!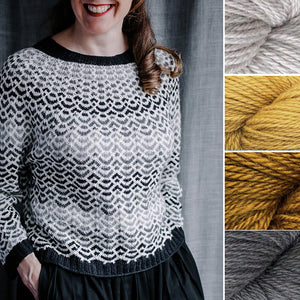 My talented friend Renée, otherwise known as podcaster East London Knit, has released another cracker of a pattern and I have been trying to decide which colours of Northiam DK to cast her new Miara sweater on in!
The knit-along started last week, so it is the perfect time to join in.
The grey grouping above would be very similar to the sample... from top Canvas, Slate, Swift and Blackthorn. It is so tempting to make it just like the sample as it is SO GOOD. 😍
From Ravelry ... "The MIARA SWEATER is an elegant, top-down, yoked sweater, made in a luxurious yarn. The colourwork is a beautiful slipped stitch pattern that I come back to again and again because, although it looks complex, it is quite simple to work, holding only one colour per row."
There is the natural temptation to make it in blues, as more than half of my wardrobe is blue! From top above: Shale, Seafoam, Caspian, Blackthorn.
These pink hues are the same colours I used in my Shifty sweater and would look fantastic together! Thistle, Rosehip, Swift and Amber.
I think I am leaning towards this grellow combo, though. What do you think? From top: Shale, Barley, Amber and Swift.
So hard to choose!
Find Northiam DK on the shop and pick your own to join the KAL...