The Glittering Splendor of Lunula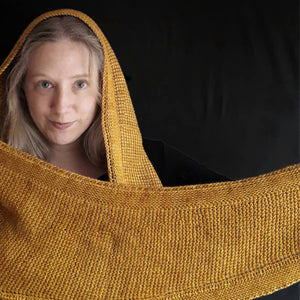 LUNULA in Islington Fingering
Aoibhe Ni has just released her #LunulaShawl Tunisian Crochet pattern, designed in my handdyed Bluefaced Leicester/Silk.
The Tunisian Crochet stitches in Turmeric shimmer like the delicate Bronze Age gold torques the shawl was named after. Pure magic. 
(For those of you who might be wondering how to pronounce Aoibhe's gorgeous Gaelic name - it is just 'Ava', like my sweet little pupper's!)
Aoibhe says "The sun, even now in more secular days, is an object of wonder here. We believe that our ancestors worshipped it as a deity, building vast tombs to catch its first and last rays on significant days, and creating great, delicate and infinitely precious golden objects so that they could posess, reflect, embody or simply worship the sun's gilded glow from closer up.
Ireland's collection of Bronze Age lunulae are fine examples of this. Large, paper-thin crescents of hammered gold, decorated with hatched patterns and believed to have been worn around the neck."
If you've not tried this Tunisian crochet before, see a video on Aoibhe's Instagram feed to see what it is like. It is absolutely mesmerising to watch! I sat and watched Aoibhe working on a shawl for at least a half hour when we first met, as it is so calming a process. 
You can also join her Patreon for the ultimate help and support while learn the techniques to hook this stunning shawl.
Islington
British Bluefaced Leicester / Silk 
100 g = 400 meters (437 yards)
Shop now