Yonagatsuki - month of the long nights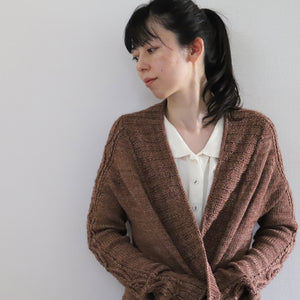 Yonagatsuki in Beyul DK
Snuggle up in this lush cardigan by Japanese designer Eri Shimizu. Worked seamlessly from the top down, Eri has designed this with rich cable detailing down the arms, showcasing Beyul's spectacular stitch definition. A generous shawl collar snuggles into your neck, perfect for cocooning while brisk winds blast the seaside cliffs.
Eri says that because the nights are longer in autumn, the word 'yonagatsuki / 夜長月' breaks down as such:
Night / 夜 / yo
Long / 長 / naga
Month / 月 / tsuki
Month of the long night . I love how poetic that sounds!
Eri used Muscavado for her sample in this luscious baby Yak, Silk and ethically farmed Merino blend. The colour is a warm brown with salmon undertones, giving it a juicy glow, perfect for pairing with mustards, pinks and rust. I'll be dyeing more of this gorgeous neutral next week and shipping when dry, so order now to get in on the next batch!
Beyul DK
Baby Yak / Silk / ethically sourced superwash Merino
100 grams = 212 meters ( 232 yards)
Colourway: Muscavado - rich warm brown with madder undertones that goes beautifully with golds and pinks.
#beyulyarn
Yak is durable, breathable, lightweight and its incredible thermal properties keeps you cool in summer and warm in winter.
Shop Beyul DK