Yorkshire Yarnfest - Sept 19 2020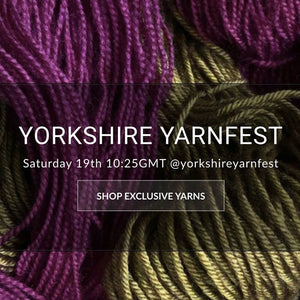 Thanks for joining me again this morning for my live feed on @yorkshireyarnfest's account. If you missed the episode, I've saved my segment to my highlights and you can watch it on @kettleyarnco.
I've dyed two special colourways for the 'autumn leaves theme' for Yorkshire Yarnfest. I wanted to do something a bit different from typical orange, so took my inspiration from the rich patinas the leaves develop after lying on the forest floor.⁠ ⁠ 
There are only a few skeins of each colour in shop. I'll show you both skeins in the 'flesh' on Saturday, along with things to knit with them.⁠ ⁠ The rich purple is in Twist - high-twist BFL perfect for socks, and the DK is Beyul in a new colour I am calling Amulet. Find both in shop now while stocks last.
As promised, here is a breakdown of the designs and yarn combos I discussed. You can see my projects on Ravelry at KettleYarnCo and other designs on my Pattern Gallery on the website. 
---
I decided to focus on Beyul DK for this show and give you a glimpse of some samples in the blend! 
Beyul combines the best of 3 fibres – the gentle halo of high quality Yak down, a subtle shimmer from silk, and the bouncy goodness of the softest superwash Merino. This blend is truly a dyer's dream, taking dye with an intoxicating richness that takes your breath away.
Sold in 100 grams skeins with 212 meters ( 232 yards) each, this weight can be used as a straight DK or to get gauge for sport projects. You can even hold it double with Hythe kid silk for Aran/Worsted weight designs!
---
Here are the samples I went through this morning: 
Maleme
 by Meiju Kallio-Peltoniemi, colour Steppe.

Siri by Linnéa Öhman, in colour Rhubarb.
Beyul by Justyna Lorkowska, colour Serpentine. 

Allium by Renée Callahan, colour Monk's Robe.

Liminal Shawl by Andrea Mowry, colour Iceberg.

Sharman by Bristol Ivy in Iceberg.
Find all the yarns in shop and patterns on Ravelry!